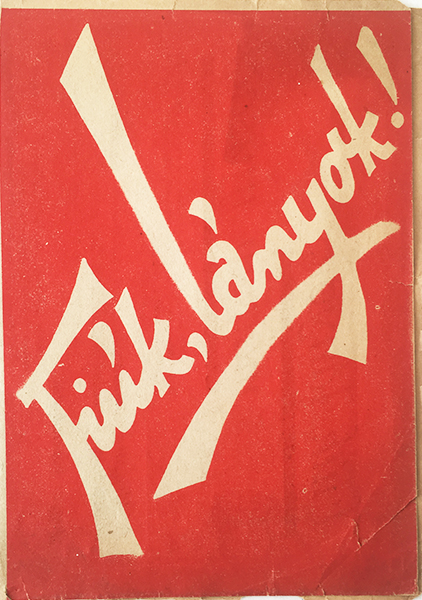 Boys, Girls! Hungarian Communist Party leaflet
Hungarian title:
Fiúk, Lányok! Magyar Kommunista Párt röplap
Size:
A5 1/16 Sheet (cca. 15 x 21 cm)
Condition:
Very good. Some paper loss along the border and a strong fold mark on the top corner.
Material:
Paper, letterpress.
Price: US$320
Description:
Boys, Girls! original propaganda leaflet from 1947.
Propaganda material by the Hungarian Communist Party. The leaflet addressed young people. The text inside says: 'the Communist Party achieved that the age limit for voting was decreased to 20, so now you have the right to claim proper schooling without class differentiation, the girls can claim their right to be equal and get opportunity to learn whatever profession they like, etc.'. It was important for the left wing to have a strong basis among the youth, therefore numerous propaganda material addressed them.
(Size: A5 when folded, A4 when opened)