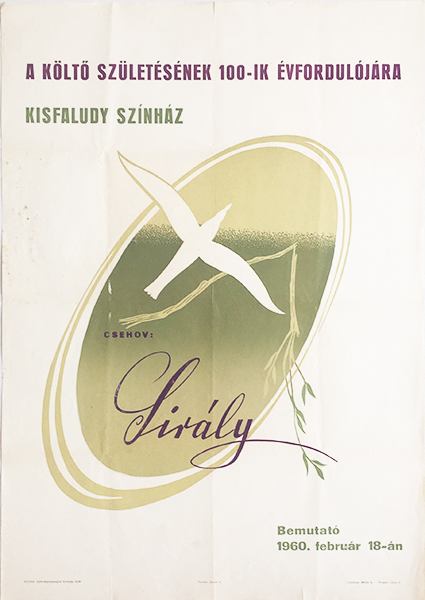 Chekov: The Seagull
Hungarian title:
Csehov: Sirály. Kisfaludy Színház
Size:
B2 (cca. 50 x 70 cm)
Condition:
Fine, with fold marks and little foxing on the left side.
Price: $160
Description:
Kisfaludy Theatre. The poster advertises a theatre performance of the "Seagull", which was set for the 100th anniversary of Chekov's birth. The Seagull is a play by Russian dramatist Anton Chekhov, written in 1895 and first produced in 1896. The Seagull is generally considered to be the first of his four major plays. It dramatises the romantic and artistic conflicts between four characters: the famous middlebrow story writer Boris Trigorin, the ingenue Nina, the fading actress Irina Arkadina, and her son the symbolist playwright Konstantin Tréplev.