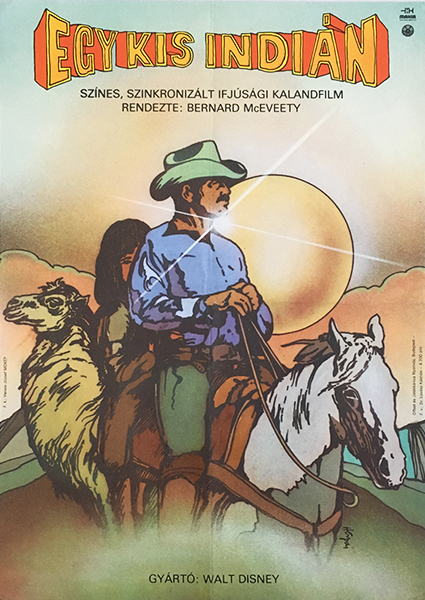 One Little Indian
Hungarian title:
Egy kis indián
Size:
A2 1/2 Sheet (cca. 42 x 59 cm)
Condition:
Fine, fold marks, light wear.
Material:
Paper, offset lithography.
Price: US$200
Description:
Hungarian poster for a 1973 western film, One Little Indian produced by Walt Disney Productions starring James Garner and Vera Miles, deisgned by Zoltan Herpai. The supporting cast includes Pat Hingle, Jay Silverheels, and an 11-year-old Jodie Foster.
Clint Keys (James Garner) is a hunted man. On the run from the Cavalry, where he faces a hangman's noose for mutiny and desertion charges, he makes a frantic attempt to fade into the vast desert countryside. His conspicuous companions? "Rosie," an ill-tempered camel, her offspring, and a 10-year-old runaway boy (Clay O'Brien). Additional complications arise when they encounter a pioneering widow (Vera Miles) and her young daughter (Jodie Foster) who must choose between aiding the unlikely fugitives -- or hampering their desperate flight.