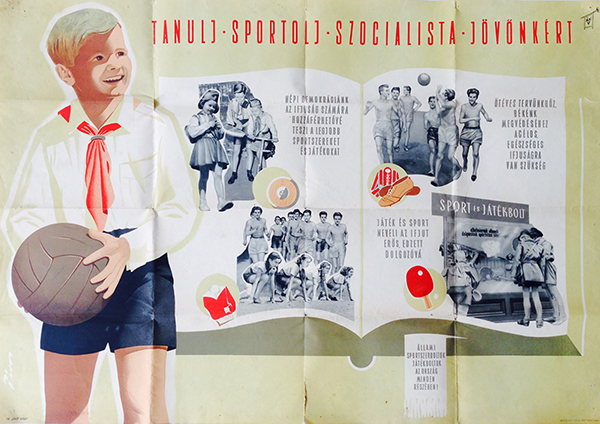 Study and play sports for our Socialist future!
Hungarian title:
Tanulj, sportolj szocialista jövőnkért! Játék és sport neveli az ifjut erős, edzett dolgozóvá. Állami sportszerboltok, játékboltok az ország minden részében!
Size:
A0 2 Sheet (cca. 84 x 119 cm)
Condition:
Very good. Fold marks, tears, pin holes.
Price: $1000
Description:
Study and play sports for our Socialist future! is a 1951 vintage Hungarian propaganda poster designed by Tibor Piros.
Poster to propagate the Socialist education. In the socialist times in Hungary such propaganda posters were often ordered by the government. They were spread all over the country to create a solemn atmosphere where the whole nation and all generations happily joined forces for one goal: building the perfect socialist state. However, this was only the surface, the socialist way of living wasn't good for the majority of people, but the posters made in this period followed the obligatory style, thus everything seems to be happy on the documents of the era. The target audience of this poster was the young children and their parents. In accordance with the restrictions of the obligatory style, the poster shows a happy kid in the foreground and at the backround the texts declaim empty phrases commonly used at the times: 'our people's democracy makes the best sport equipments and toys available for kids'. 'Game and sport teaches the young people how to be a strong and trained worker'. 'To fulfill our 5 year plan and to protect the peace we need strong and healthy young people'.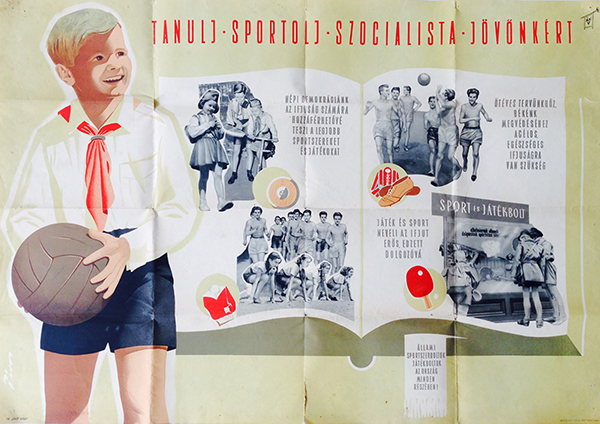 Learn, do sports for our Socialist future!