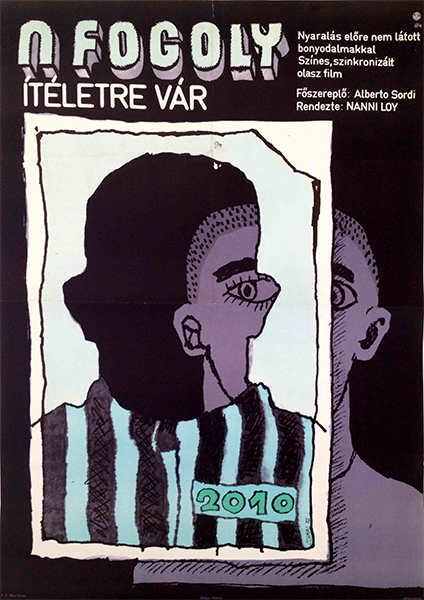 Why?
Hungarian title:
A fogoly ítéletre vár
Size:
A1 1 Sheet (cca. 59 x 84 cm)
Condition:
Fine, light fold marks and wear.
Material:
Paper, offset lithography.
Price: US$160
Description:
Why? (literal translatiion: In Prison Awaiting Trial) is a 1971 vintage Hungarian movie poster.
Detenuto in attesa di giudizio is a 1971 Italian drama film directed by Nanni Loy. It was entered into the 22nd Berlin International Film Festival where Alberto Sordi won the Silver Bear for Best Actor Award.
The surveyor Giuseppe Di Noi experiments the troubles of the Italian Justice System of the '70s while back in Italy for a vacation. Giuseppe Di Noi, an Italian land surveyor who has lived in Sweden for the past seven years, goes to his native country with his Swedish wife and children for his holidays. At the border he is however jailed for no apparent reason. He thus begins a nightmarish kafkian experience while he's moved from one prison to another, subject to any humiliation and violence.
Director: Nanni Loy
Writers: Sergio Amidei, Emilio Sanna
Stars: Alberto Sordi, Elga Andersen, Andrea Aureli
(source: imdb.com)