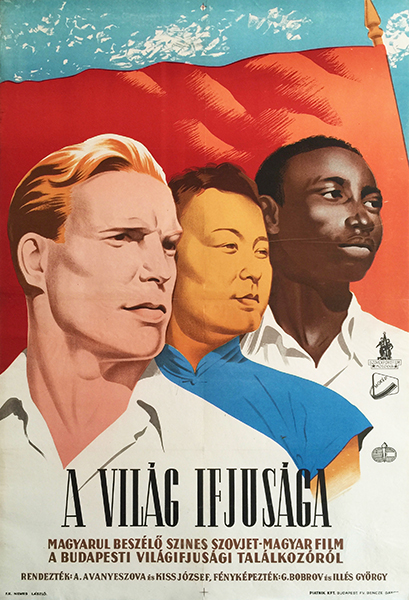 Youth of the World - WFYS Budapest 1949
Hungarian title:
A Világ Ifjúsága - Magyarul beszélő színes szovjet-magyar film a Budapesti Világifjúsági Találkozóról
Size:
A1 1 Sheet (cca. 55 x 84 cm)
Condition:
Fine, light fold marks.
Material:
Paper, offset lithography.
Price: US$1600
Description:
Original Hungarian vintage movie poster from 1949.
The poster was created for a Hungarian- Soviet film that documented the World Festival of Youth held in Budapest in 1949.
The festival has been held regularly since 1947 as an event of global youth solidarity for democracy and against war and imperialism. The largest festival was the 6th, held in 1957 in Moscow, when 34,000 young people from 131 countries attended the event. This festival also marked the international debut of the song "Moscow Nights", which subsequently went on to become perhaps the most widely recognized Russian song in the world. In terms of the number of the attending countries, the largest festival was the 13th, held in 1989 in Pyongyang when 177 countries attended the event. (source: wikipedia.org)