Bottlik József
1897 - 1984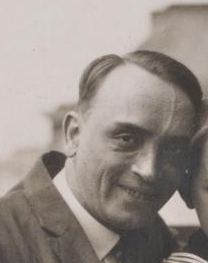 Jozsef Bottlik
He was one of the most important Hungarian art deco poster artists. He had an outstanding talent for logo-design and commercial graphic art. His poster for the 1927 movie, "Metropolis" is a unique masterpiece.
Bottlik was mostly an autodidact, because he had no money to fund his studies. He spent only half year learning at the Iparművészeti Iskola (School of Applied Arts) in Budapest. From 1919 on he started to design posters, mainly for movies and commercial products. Between 1924 and 1965 he was the lead designer of the Hungarian electronics manufacturing company 'Orion'. Between 1933 and 1935, Bottlik was working in Berlin, designing political and movie posters, and then he became an illustrator for the News Review in London. From the 1940s, he was living in Budapest again.
In his first period, Bottlik followed the popular Art Nouveau style of the era, which was typical of Hungarian posters at the time, and their traditional humorous nature was also close to him. He showed great skill designing effective symbols and emblems for companies (for example: SZIT coffee, Orion). Later he was inspired by avant-garde tendencies, mostly by expressionism. The distorted forms of expressionist paintings appear on some of his film posters. Bottlik became influenced by the functional modernism as well for a while, which is visible on some of his poster designs that use basic colours and geometric forms.
Bottlik's poster art really began to flourish when he started designing art deco posters. He used compact and perfect forms, decorative ornaments and interesting lighting effects. Demonic women dominate his movie posters. He has designed a beautiful art deco logo for Orion, which was used for decades. Bottlik was also a brilliant typographer: his metal-like decorative letters fit perfectly for Orion, he used expressive letter forms in posters for American movies, or light art deco scripts for other ones.
On his Metropolis poster, a gigantic worker figure carries the skyscrapers of an imaginary city on his back – the poster summarizes the movie in one monumental scene. After 1940s, Bottlik was back to working in the field of poster design. His style shifted from the art deco stlye and utilized more simple and popular elements. After the WW2, he returned to using modern, compact advertising tools that characterized his work during his art deco period. He mostly designed safety posters during the 1960s. His best works (Orion posters, Metropolis, Sirius car batteries, PAX, etc.) rank him among the top art deco poster artists of the world. .
Available posters by this artist