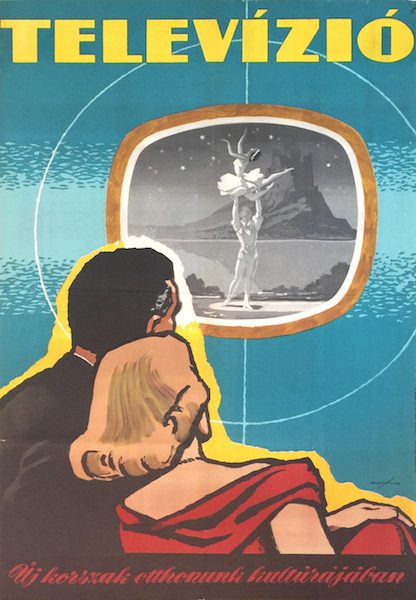 Television - New era in home culture
Hungarian title:
Televízió - Új korszak otthonunk kultúrájában
Size:
A1 1 Sheet (cca. 59 x 84 cm)
Condition:
Fine, light fold marks and wear.
Material:
Paper, offset lithography.
Price: US$4000
Description:
Television - New era in home culture is an original 1959 vintage Hungarian advertising poster designed by Jozsef Bottlik.
Commercial poster that aimed to introduce a new era in home life, with the television.
The first television devices were produced in 1955 in Hungary. The price was incredibly high: around five thousand Hungarian forints - while an average salary for an engineer was around five hundred forints. Trading of the television begun in 1956, the Hungarian Television was first broadcasting in 1957.
This poster was created in 1959 and it was a very modern composition. The first part of the decade was characterised by the compulsory norms of Socialist Realism: socialist content in a realist portrayal. This was the key to the extensive propaganda which was the only tool of the political dictatory to brainwash the population. The situation changed after 1956, and while Socialist Realism continued to exist, it ceased to have an artificially created predominant position on the art scene. A new form of political dictatorship incepted: instead of forcibly taking over every aspect of an individual's life, it rather attempted to attract them with consumer goods and thus avoiding them paying attention to political matters. Housing, interior decoration, furnitures and household appliances became the keys of happiness. Propaganda was not over, it existed in a new form.
This poster is a perfect example of these changes. The composition is created by the former art deco designer József Bottlik, which can be recognized in the portrayal of the two figures in the foreground. The poster's every detail shows the impression of luxury: especially the clothing of the couple and the picturesque ballet show on the screen. Previously, luxury was something decadent, vicious and unhonoured, thus forbidden to represent. The pattern of the background and the font type of the main title reflect a modernist style which was also banned in the previous period as blamed to be formalist. However, besides these changes in representation, the biggest change can be noticed in the main message of the poster: "New era in home culture". Entertainment and comfort seemed to be the new characteristics of everyday life during the new dictatorship, according to the propaganda. The couple in the foreground is calmly watching television back to the viewer - the political leadership claims not to disturb.