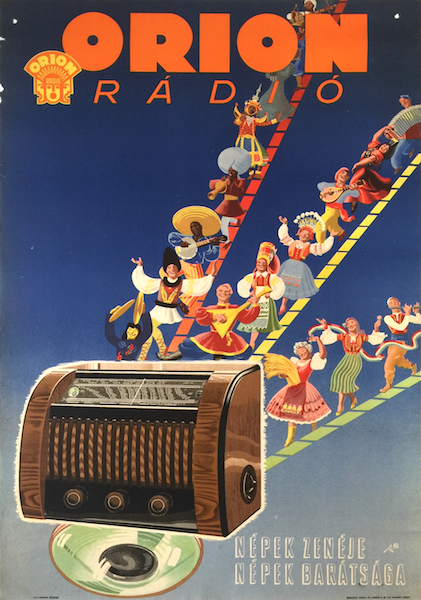 Orion radio - The music of peoples, friendship of peoples
Hungarian title:
Orion rádió - Népek zenéje, népek barátsága
Size:
A1 1 Sheet (cca. 59 x 84 cm)
Condition:
Fine, light fold marks and wear, small paper loss and holes.
Material:
Paper, offset lithography.
Price: US$5000
Description:
Orion radio - The music of peoples, friendship of peoples is an original 1951 vintage Hungarian advertising poster designed by Jozsef Bottlik.
Bottlik didn't only create the majority of the Orion posters, but the company's logo is also attributed to him. The emblem alludes to Janus, the two-headed creature in the antique mythology representing the multiple directions sound can spread into. The company's image was determined by Bottlik's logo even following World War II. The modern emblem looked great on posters where the composition was dominated by it as well as on those where it was used as a design element that accompanied the advertised product - just like on this one.
On this design Bottlig visually represented the message of the piece, the way radio acts like a mediator between different cultures. People representing various countries are depicted playing music and dancing on a rope all the way to the radio device which will broadcast the diverse information provided by them. The design resembles Art Deco style what was typical of Bottlik in the interwar period but also appears on some later pieces as well.