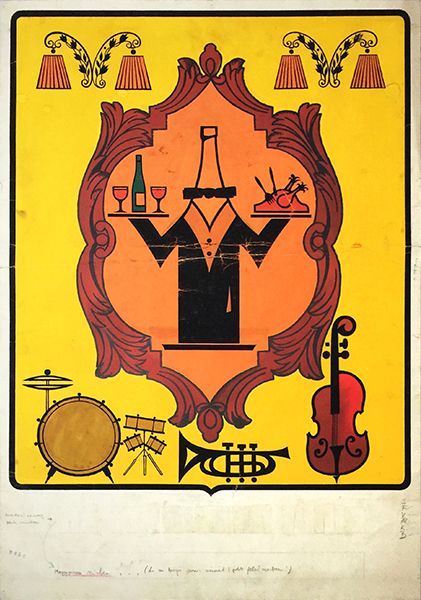 National Catering Industry Restaurants
Hungarian title:
A Vendéglátóipari Vállalat éttermei
Size:
B2 (cca. 50 x 70 cm)
Condition:
Fine, light wear.
Material:
Paint on cardboard.
Price: US$2000
Description:
This lovely design is an original, Mid-Century Modern painted poster artwork from the 1960s. It was created by József Bottlik for the restaurants of the Hungarian National Catering Industry. The industry was nationalized in the early 1950s during the socialist political and economic takeover in the country.
The design is a decorative composition due to the rich colours and shapes. It also could be considered a playful pattern created by the depiction of several objects. In front of a bright yellow background we can see two pairs of elegant lamps in the upper corners. There is a bottle-shaped figure in a bow tie, a white shirt and a black suit in the centre, holding a tray with champagne and glasses, and a roasted chicken on another tray in the hands. It appears against a bright orange panel, surrounded by a brown ornamental frame. Below a drumset, a trumpet and a double bass is captured.
The light-hearted nature of the design fits the consumer style of the contemporary international poster art. The entire image has an attractively stylized character. The intended distortions in the representation (e. g. the use of many different scales in case of separate objects, or that even one side of the double bass is shorter than the other one) gives a humorous character to the design. Furthermore, it is enhanced even more by the key idea of the composition: the bottle in a waiter's dress and function.
Each element of the image captures the most important factors of a restaurant, all what we need for a nice dinner. The lamps and the ornamental frame symbolize the cosy look of the place, the two trays show some good food and drinks, the joyful waiter figure represents a pleasant service, and the instruments refer to the catchy live music. Thus the artwork displays the restaurants of the National Catering Industry as the perfect places to eat out.