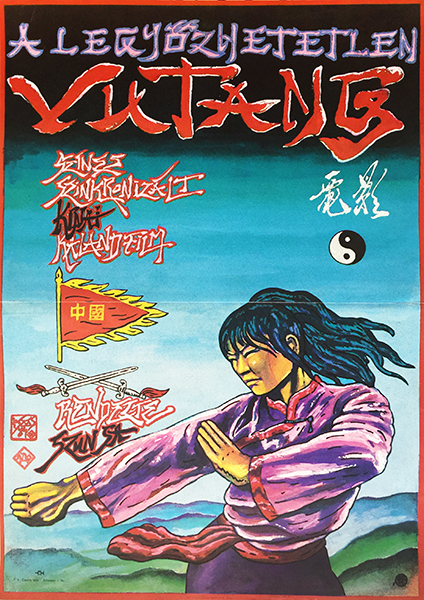 Undaunted Wudang
Hungarian title:
A legyőzhetetlen Vutang
Size:
A2 1/2 Sheet (cca. 42 x 59 cm)
Condition:
Fine, horizontal fold mark.
Material:
Paper, offset lithography.
Price: US$200
Description:
Poster for the Chinese movie, The Undaunted Wutang.
A master of the Wudang style is poisoned by Japanese fighters because they couldn't defeat him in an honest fight. His daughter (Lin Quan) is repeatedly attacked, too. In one remarkable scene, she spares the life of an injured and defenseless enemy and obtains valuable information in return, for he realizes she is an honorable opponent. She escapes and goes to see her uncle who lives far away in the mountains. After he taught her some powerful new techniques, she returns to have her revenge on the Japanese.