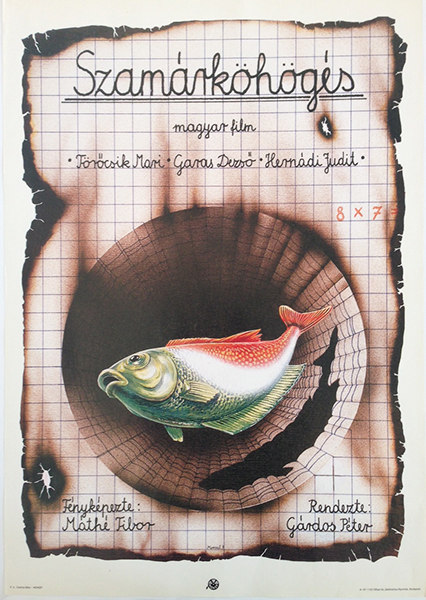 Whooping Cough
Hungarian title:
Szamárköhögés
Size:
A1 1 Sheet (cca. 59 x 84 cm)
Material:
Paper, offset lithography.
Price: US$240
Description:
'Whooping Cough' is a 1987 Hungarian drama and film satire, directed by Péter Gárdos and starring great Hungarian acters and actresses, Mari Töröcsik, Dezsö Garas and Judit Hernádi.
The story depicts the everyday life of an average Hungarian family during the bloody events of the revolution in 1956, in Budapest. First children do not yet understand what is going on, but they're happy because schools are closed. However, adults and children later realize that something terrible is happening as relatives and friends are disappearing, some are even killed. The life of the whole family, just as that of the country, is going absolutely disarranged and crazy for a while. A day school starts again - not for everyone though.
The poster of the movie is the work of Péter Merczel. The design perfectly reflects the satirical, sometimes a bit childish, but deeply sad athmosphere of the movie. The checkered paper (which can be associated with childhood as children typically use this kind of paper in schools) damaged and got dirty in several places by fire, and the fish coloured in the Hungaian national colours, falling into a hole in the core of the damaged paper all contribute to the grotesque visual world of the poster, and refer to the strong message of the movie as well.