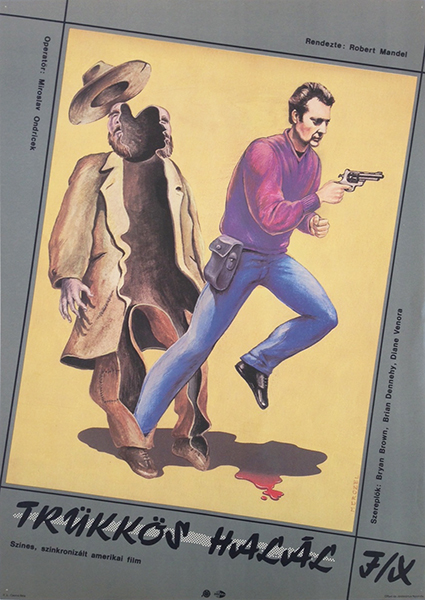 F/X
Hungarian title:
Trükkös halál
Size:
A1 1 Sheet (cca. 59 x 84 cm)
Condition:
Fine, fold marks, creases & small tears along the borders.
Material:
Paper, offset lithography.
Price: US$320
Description:
F/X is a 1986 American action movie directed by Robert Mandel and starring Bryan Brown, Brian Dennehy and Diane Venora. A movie special effects man is hired to fake a real-life mob killing for a witness protection plan, but finds his own life in danger. (source: imdb.com)
The Hungarian movie poster is a humorous and surrealistic design, created by the skillful graphic artist, Péter Merczel. The design evokes the visual world of the artist's contemporary popular culture, e.g. caricatures and comics. The grotesque portrayal is typical of Merczel - this graphic design by him refers mostly to the Hungarian title of the movie, 'Tricky death'.