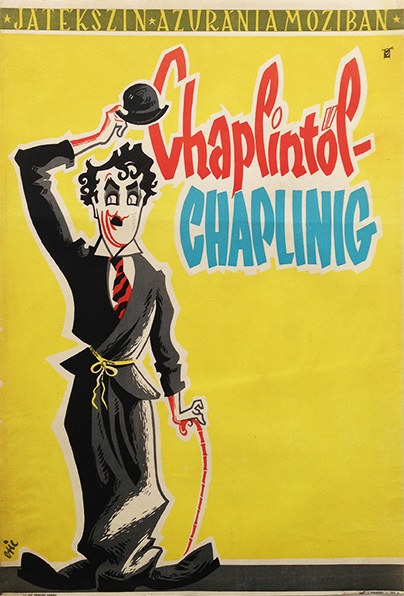 From Chaplin to Chaplin
Hungarian title:
Chaplintől Chaplinig
Size:
B2 (cca. 70 x 50 cm)
Condition:
Fine, small tears and light creasing.
Material:
Paper, offset lithography.
Price: US$1600
Description:
This poster promotes an event - from Chaplin to Chaplin - which was held at the Uránia Cinema. Uránia is still in use today as the national movie theater. It was built in the 1890s and was originally a cabaret. A few decades later it served as the venue for scientific lectures where literary events and other cultural programs were held with the aim of developing the intellectual level of the citizens of Budapest. In 1899 the facility got equipped with apparatus for still and then motion pictures. Uránia has been serving as a movie theater ever since 1916. The first film after World War II was shown in Uránia in 1945 which was about the triumphant battles of the Red Army as the movie theater had been in Soviet hands for decades, but after the change of the system, in 1989, it became a Hungarian holding again.
The event promoted by this poster was most probably a homage to Charles Chaplin, one of the greatest filmmakers of all time. By 1955, the year of the event, Chaplin was a star known and acknowledged worldwide. The title points to the suggestion that on this event a selection of Chaplin movies was played. Chaplin was a huge star and he was also well-known for sympathizing with the Communist ideologies, thus it is not surprising that these films were allowed to be played in a movie theater in Soviet hands, unlike many cinemas from the Western world.
The cartoon-like poster is a typical design of Eric Vogel. With its simple drawing and vivid colours it creates a lively atmosphere what matches the atmosphere of the movies of Chaplin. The poster is very plain. In front of the yellow background there is the figure of Chaplin, displaying all characteristics typical of him: the toothbrush mustache, the small bowler, the bamboo cane stick and his waddly posture. A very decorative and joyful piece of the 1950s.