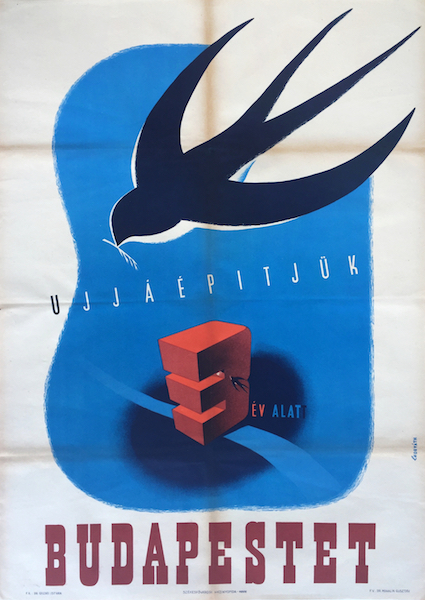 We will rebuild Budapest in 3 years
Hungarian title:
Újjáépítjük 3 év alatt Budapestet
Size:
A1 1 Sheet (cca. 84 x 59 cm)
Condition:
Fine, restored, light fold marks and discolouration.
Material:
Paper, offset lithography.
Price: US$4000
Description:
We will rebuild Budapest in 3 years is an original 1948 vintage Hungarian propaganda poster designed by Laszlo Horvath.
The poster is an artefact from a short and unique period of Hungarian poster art and history.
During the period following World War II and before the takeover of the Communist Party poster, as well as other art forms flourished in Hungary: the Európai Iskola (European School) was founded this time. The artist group's name was symbolic: they wanted to demonstrate that they kept up with the international tendencies. Evidently, the historical context influenced the theme of poster art, yet the style was defined by the artist themselves. In 1945 February, the Soviet army took over in Hungary, but the occupation wasn't immediately followed by a political victory, elections were held. Therefore, a heavy propaganda period started and the most prominent artists turned to this genre again. This resulted in the birth of unique posters made by the most significant artists of the time, which today act like real time capsules, just like this piece.
The theme of this poster is the three year plan which was the major promise of the sociaist party in 1948. It was the first agricultural plan in Hungary following the Soviet model. The goal was to urge the intellectual rise and life standard in Hungary, stabilize democracy, strengthen the production and harmonize the various branches in order to ensure the universal interest of people. Later, the rebuilding of the country after the severe damages it suffered in the war was added to the plan. Needless to say, that these promises rather served propaganda goals than were realistic promises. However, this does not reduce the value of the posters created for propagating the leftist party.
The Three year plan was introduced after the Hungarian parliamentary election of 1947, which later became infamously the "blue-ballot" elections held on 31 August 1947. The Hungarian Communist Party, which had lost the previous election, consolidated its power in the interim using salami tactics. This fact, combined with the weakening of the opposition and a revised electoral law, led to further Communist gains. It was Hungary's last remotely competitive election before 1990.
This poster represents the delicate Art Deco style with the simplistic typography, the gentle shades of colours and the organization of the composition. The stylized imige of a sparrow taking the building material to the nest is a reference to Hungaria people who support the building of their home by supporting the three year plan. The pattern is repeted in smaller size where the nest is placed in number three, that stands for the Three year plan.