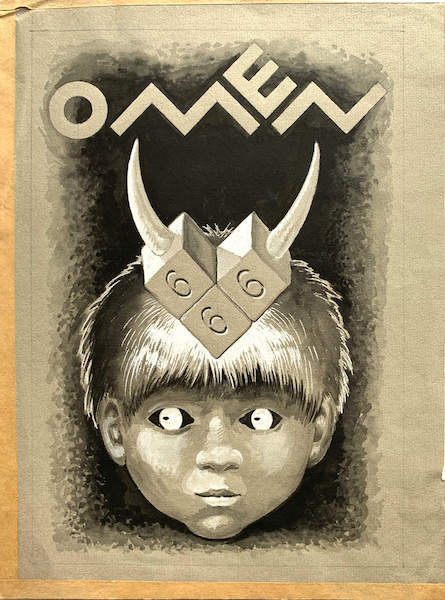 Omen, The
Hungarian title:
Omen
Condition:
Fine, light wear.
Material:
Paint on cardboard.
Price: US$6000
Description:
The Omen is a 1989 vintage Hungarian movie poster maquette by Andras Felvideki.
Hand painted original artwork. A modified version of this design was used for the Hungarian first release movie poster of this film.
The Omen is a 1976 supernatural horror film directed by Richard Donner and written by David Seltzer. An international co-production of the United Kingdom and the United States, it stars Gregory Peck, Lee Remick, David Warner, Harvey Spencer Stephens, Billie Whitelaw, Patrick Troughton, Martin Benson, and Leo McKern. The film's plot follows Damien Thorn, a young child replaced at birth by an American ambassador, unbeknownst to his wife, after their biological child dies shortly after birth. As a series of mysterious events and violent deaths occur around the family and Damien enters childhood, they come to learn he is in fact the prophesied Antichrist.
Released theatrically by 20th Century Fox in June 1976, The Omen received mixed reviews from critics but was a commercial success, grossing over $60 million at the U.S. box office and becoming one of the highest-grossing films of 1976. The film earned two Oscar nominations, and won for Best Original Score for Jerry Goldsmith, his only Oscar win. A scene from the film appeared at #16 on Bravo's The 100 Scariest Movie Moments. The film spawned a franchise, starting with Damien: Omen II, released two years later, followed by a third installment, Omen III: The Final Conflict, in 1981, and in 1991 with Omen IV: The Awakening. A remake was released in 2006.
(source: wikipedia.org)