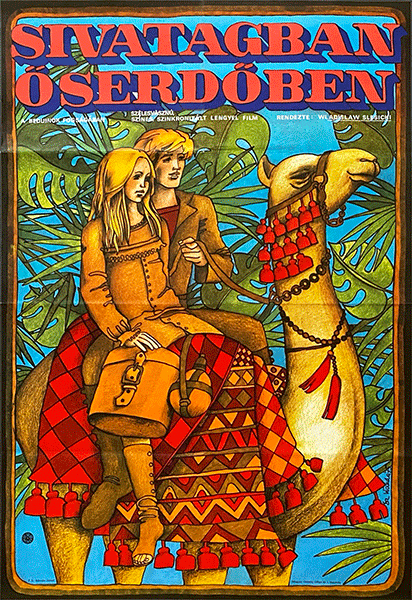 Desert and Wilderness
Hungarian title:
Sivatagban őserdőben
Size:
A1 1 Sheet (cca. 84 x 59 cm)
Condition:
Fine, light wear and fold marks.
Material:
Paper, offset lithography.
Price: US$320
Description:
Desert and Wilderness is a 1975 original Hungarian vintage movie poster designed by Wanda Szyksznian for a Polish film, directed by Wladislaw Slesicki.
Wanda Szyksznyan used to be a student of György Konecsni, one of the greatest Hungarian poster artists. She usually made colourful designs. This poster is also a very atmospheric and colourful one capturing the film's adventurous feeling.
The film is about the fourteen year old Polish boy Stas Tarkowski and the eight year old Nel Rawlison from England who get kidnapped and becppme the hostages of Arabic fanatics and they are taken to their religion leader. Then they manage to escape and try to return to their fathers. The children have a lot of dangerous adventures, meet two Black kids; Kali and Mea, who also help them, make a friendship with an elephant and help one Black's tribe. Finally they manage to return. Based on great novel, the same title by Nobel receiver (for all his literary output) Henryk Sienkiewicz. Original title:W pustyni i w puszczy. (source:imdb.com)