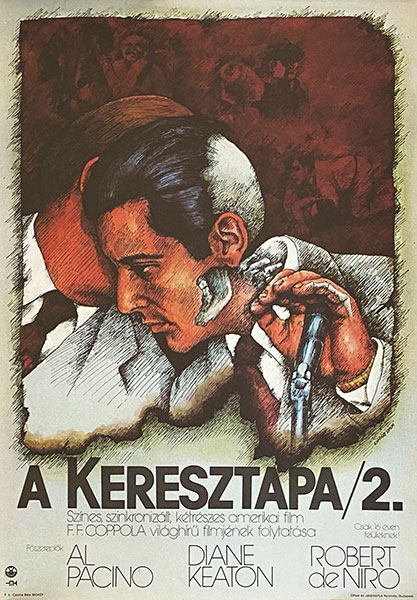 Godfather: Part II, The
Hungarian title:
A keresztapa 2
Size:
A2 1/2 Sheet (cca. 59 x 42 cm)
Material:
Paper, offset lithography.
Price: US$2400
Description:
The Godfather: Part II is a 1983 original Hungarian vintage movie poster designed by Simon Koppány.
The Godfather Part II is a 1974 American epic crime film produced and directed by Francis Ford Coppola from the screenplay co-written with Mario Puzo, starring Al Pacino, Robert Duvall, Diane Keaton, Robert De Niro, Talia Shire, Morgana King, John Cazale, Mariana Hill, and Lee Strasberg. It is the second installment in The Godfather trilogy. Partially based on Puzo's 1969 novel The Godfather, the film serves as both a sequel and a prequel to The Godfather, presenting parallel dramas: one picks up the 1958 story of Michael Corleone (Pacino), the new Don of the Corleone family, protecting the family business in the aftermath of an attempt on his life; the prequel covers the journey of his father, Vito Corleone (De Niro), from his Sicilian childhood to the founding of his family enterprise in New York City.
The film was nominated for eleven Academy Awards at the 47th Academy Awards and became the first sequel to win for Best Picture. Its six Oscar wins also included Best Director for Coppola, Best Supporting Actor for De Niro and Best Adapted Screenplay for Coppola and Puzo. Pacino won the BAFTA Award for Best Actor and was nominated for the Academy Award for Best Actor.
Some have deemed it superior to The Godfather. Like its predecessor, Part II remains a highly influential film, especially in the gangster genre, and is considered to be one of the greatest films of all time. In 1997, the American Film Institute ranked it as the 32nd-greatest film in American film history and it retained this position 10 years later. It was selected for preservation in the U.S. National Film Registry of the Library of Congress in 1993, being deemed "culturally, historically, or aesthetically significant". The Godfather Part III, the final installment in the trilogy, was released in 1990. (source: wikipedia.org)