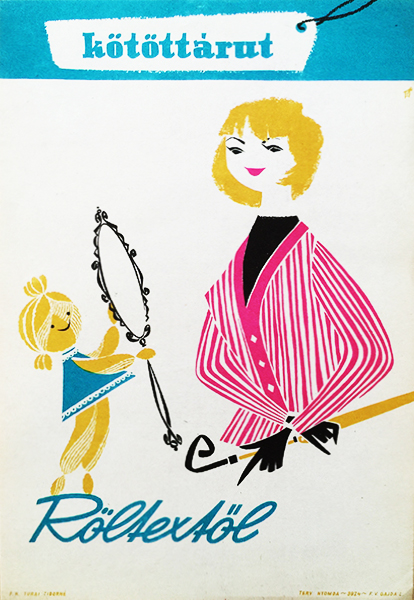 Buy Knitwear at Roltex
Hungarian title:
Kötöttárut a Röltextől
Size:
Tram poster (cca. 17 x 24 cm)
Material:
Paper, offset lithography.
Price: $280
Description:
Tram poster for Röltex. Röltex company was founded in 1949 and was dealing in fabric. During the Socialist times to buy fabrics was much more common than they are today, due to the simple fact that the variety of the affordable ready-made clothing was very limited, thus women preferred making their own clothing at home if they wanted a style not available in retails.
On this small poster we can see the emblematic figure of Röltex, Röltex Rózsi. In the 1960s many posters used charming characters as signatures of certain brands. Such character was Lottó Ottó (Lottery poster 1, Lottery poster 2). Röltex Rózsi is a lovely girl made of a ball of yarn. She was apparent on most Röltex posters, however, not on all of them. On most pieces she is knitting but on this particular pice she is holding a mirror so the pretty lady can see herself in her new knitwear purchased in Röltex. The cartoon-like design is typical of the sixties.