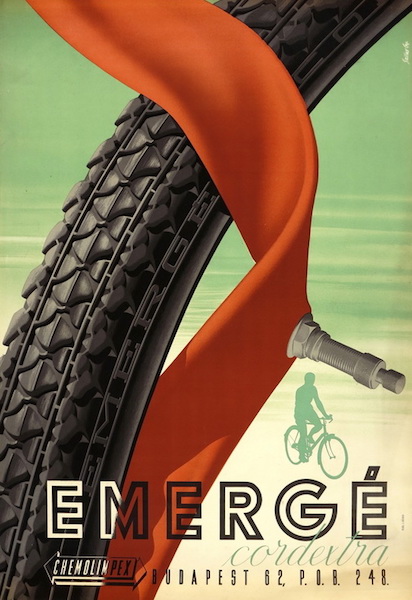 Emergé Cordextra bicycle tires
Hungarian title:
Emergé Cordextra kerékpár gumiabroncs. Chemolimpex Budapest plakát
Size:
A1 1 Sheet (cca. 55 x 84 cm)
Condition:
Fine, restored.
Material:
Paper, offset lithography.
Price: US$3200
Description:
Original Hungarian vintage commercial poster from the late 1950s by Győző Szilas.
In 1882, the Hungarian Ernő Schotta founded the first rubber-producing factory in the country. The firm was soon bought by Austrian investors and shortly after, a new company in Hungary was established: the "Hungarian Rubber Factory" - "Magyar Ruggyantaárugyár". MRG is the abbreviation of the company's name in Hungarian. The trademark "Emergé" is the phonetic utterance of this abbreviation.
The main scope of the factory was manufacturing for example rubber tires, linoleum among numerous other rubber based products.
The "Hungarian Rubber Factory" also published a magazine for car drivers, and they appointed Berény as the art director of the journal. Berény himself designed many covers and illustrations for the paper as well as he other talented young designers selected by him for these tasks (such as Pál Molnár C., Tihamér Csemiczky, Victor Vasarely etc.), while Emergé's rubber shoe- and bathing cap catalogs were often designed by Tihamér Csemiczky.
The above mentioned authors were the most important characters of Hungarian Art Deco and modernism in the 1920s and 1930s. The fact that the company commissioned proves that they put a high emphasis on quality design for their commercial material. It wasn't different in the 1950s. Győző Szilas was an important poster artist at the time. Between 1933 and 1940, Szilas began his career in the 1940s as a poster artist by creating advertisements for large companies. He continued the Art Deco-influenced style of the posters that these companies used prior to the war. This poster is an example of maintaining the traditional Art Deco style of Emergé ion this piece from the late 1950s as well.