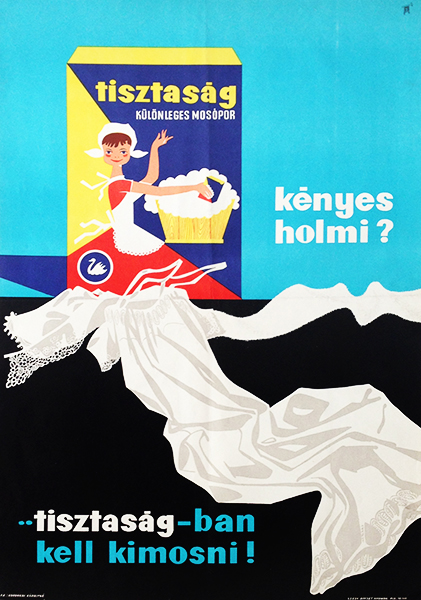 Purity Washing Powder
Hungarian title:
Tisztaság mosópor. Kényes holmi? ...Tisztaság-ban kell kimosni!
Size:
A1 1 Sheet (cca. 55 x 84 cm)
Condition:
Fine, light fold marks and wear.
Price: $400
Description:
'Delicate fabrics? ...Use Purity to wash them!'
Lovely commercial poster from the 1960s. The colourful design depicts a bag of the product with its cheerful packaging design and a beautifully floating white dress. The Hungarian slogan also rhymes, which was a favoured tool of commercial designers in the period as well as the cartoon-like style. The contrast between the light blue and the black colours makes the composition very eye-catching. The design of the packaging was also used for another Purity washing powder advertisment three years earlier.