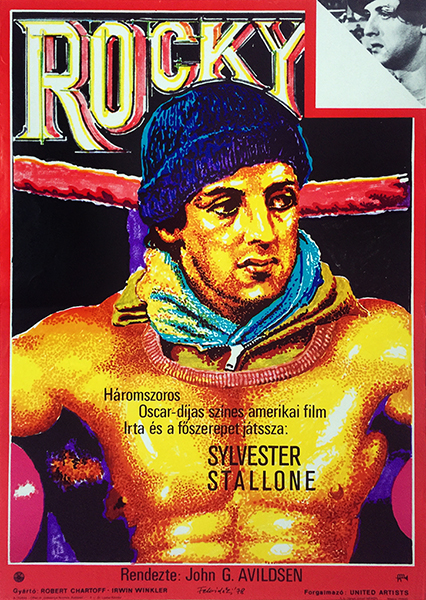 Rocky
Hungarian title:
Rocky
Size:
A1 1 Sheet (cca. 59 x 84 cm)
Condition:
Fine, light fold marks.
Material:
Paper, offset lithography.
Price: US$2000
Description:
Vintage Hungarian first release movie poster. Rocky Balboa (Sylvester Stallone).
Rocky is a 1976 American sports drama film directed by John G. Avildsen and both written by and starring Sylvester Stallone. It tells the rags to riches American Dream story of Rocky Balboa, an uneducated but kind-hearted working class Italian-American boxer working as a debt collector for a loan shark in the slums of Philadelphia. Rocky starts out as a small-time club fighter, and later gets a shot at the world heavyweight championship. The film also stars Talia Shire as Adrian, Burt Young as Adrian's brother Paulie, Burgess Meredith as Rocky's trainer Mickey Goldmill, and Carl Weathers as the champion, Apollo Creed.
The film, made on a budget of just over $1 million, was a sleeper hit; it earned $225 million in global box office receipts, becoming the highest-grossing film of 1976, and went on to win three Oscars, including Best Picture. The film received many positive reviews and turned Stallone into a major star. In 2006, the film was selected for preservation in the United States National Film Registry by the Library of Congress as being "culturally, historically or aesthetically significant". Rocky is considered to be one of the greatest sports films ever made and was ranked as the second-best in the genre, after Raging Bull, by the American Film Institute in 2008. (source: wikipedia.org)