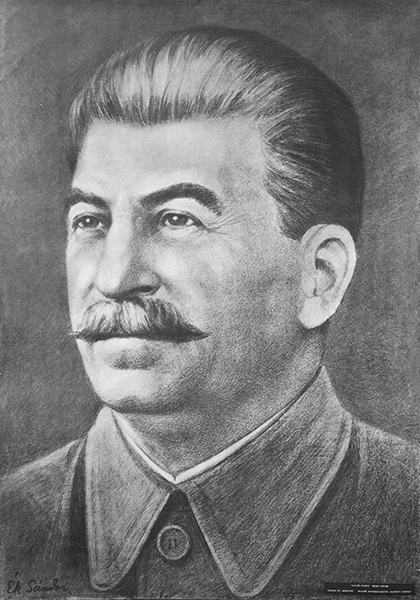 Stalin
Hungarian title:
Sztálin
Size:
A0 2 Sheet (cca. 84 x 119 cm)
Condition:
Fine, small tears & light creasing along the border.
Material:
Paper, offset lithography.
Price: US$1200
Description:
This vintage Hungarian Stalin poster designed in around 1950 by Sandor Ek (Alex Keil), who was a Kossuth Prize winning Hungarian artist. He believed in the worker movement throughout his whole life and painted numerous works that corresponded the standards set by socialist relism.
After the Second World War in Hungary there were attempts to attain democracy but in 1949 the communist party completely took over. They had a strong propaganda, covering the streets with posters that were made based on the Soviet model, in socialist realsit style.This poster of Stalin was published at the beginning of the socialist era.
Jospeh Stalin was the leader of the Soviet Union for around 30 years, his reign ended with his death in 1953.
During the Second World War the Soviet Union was led by Stalin and after defeating the Germans the Soviet troops stayed in those Eastern and Central European countries that they invaded. With this they created the base for the European communist regimes what Churchill referred to as the countries behind the iron curtain. The Hungarian communist party's head was Mátyás Rákosi who called himself Stalin's best Hungarian disciple. The way he got into power is named the 'salami tactics' as he slowly sliced up the opponents and made it impossible for them to establish democracy. Rákosi introduced the Stalinist politics and economy in Hungary and was leading one of the strongest dictatorships in Europe. He was indeed a perfect counterpart of Stalin who was known for his high intelligence, extreme lust for power, personal cult and extreme cruelty. Stalin is considered one of the most important but at the same time most negative leaders of the world. Stalin's goal was to expand the bolshevik system over the whole world but this ended with tragic results in the countries that he managed to occupy in World War II.
Due to his strong personal cult his portraits had to be present everywhere, cities, streets, squares were named after him, sculptures were built, people had to clap their hands when his name was uttered.
This poster is a relic of this era that ended with the death of Stalin and the revolution in Hungary in 1956.