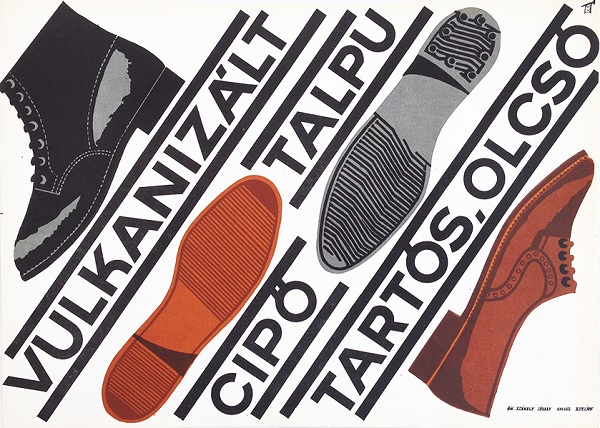 Vulcanized Soled Shoes - Cheap and Enduring!
Hungarian title:
Vulkanizált talpú cipő - tartós, olcsó!
Size:
Double Tram poster (cca. 24 x 34 cm)
Condition:
Fine, light wear.
Material:
Paper, offset lithography.
Price: US$440
Description:
Impressive commercial tram poster from the 1960s in a non-standard size (23.5 x 32.5 cm). It advertised shoes with vulcanized sole with highlighting their cheapness and endurance.
This design could be based upon the tradition of the prominent commercial poster art of the 1930s with its compact, concentrated character which focuses on the product. Only the most important information is given about the advertised product, in the clearest way. The delicate patterns of the shoes and the soles are portrayed gently and detailly. Together with the simple, but impressive composition created by the image and typography, these all contribute to the elegance of the design.
This poster is a highly decorative piece.