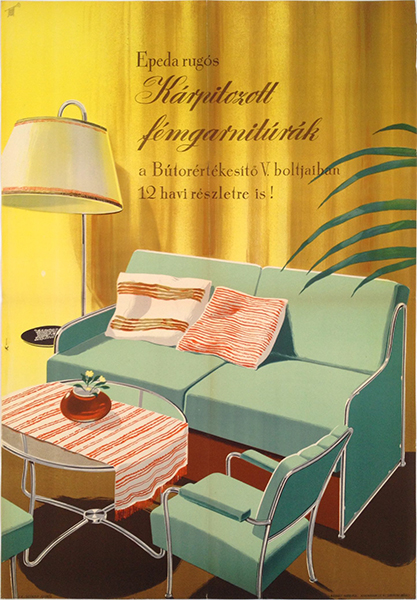 Upholstered metal sofa with Epeda springs
Hungarian title:
Epeda rugós kárpitozott fém garnitúrák
Size:
B2 (cca. 70 x 50 cm)
Condition:
Fine, small tears and creases along the border.
Material:
Paper, offset lithography.
Price: US$1600
Description:
Upholstered metal sofa with Epeda springs is a 1955 vintage Hungarian commercial advertising poster designed by Laszlo Kaldor.
The first part of the decade was characterised by the compulsory norms of Socialist Realism, which meant that poster designers had to meet the requirements of socialist content and a realist manner. They also had to employ a heroic, figurative portrayal to make the propagandistic messages clear and easy to understand.
During the second part of the decade a lot of things changed. Slowly the strict rules started to soften, and several social changes made it complicated to sustain the system.
This poster was created in 1955, some years before Socialist Realism lost its autarchy. It is really interesting to see that although it adopted to the forced realist portrayal and the boring, greyish colour scale of the period, it already advertised a modernist-styled furniture, the upholstered, metal sofa with epeda spiral. While first every representation of Modernism was banned, slowly, around the half of the decade it already started to get into the everyday life of individuals, for instance, through interior decoration.