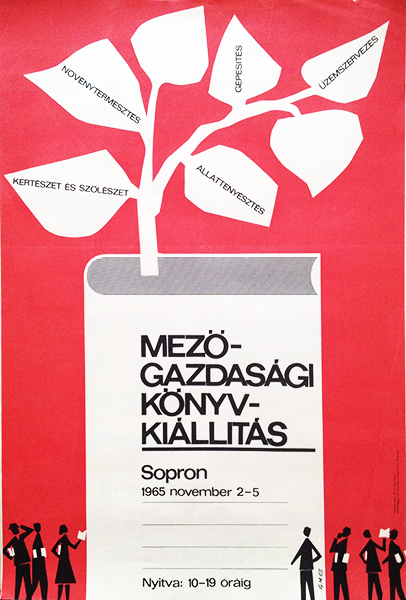 Agricultural Book Exhibition 1965
Hungarian title:
Mezőgazdasági Könyvkiállítás 1965
Size:
B2 (cca. 70 x 50 cm)
Condition:
Fine, light fold marks and wear.
Material:
Paper, intaglio.
Price: US$240
Description:
The Agricultural Book Exhibition took place in Sopron between November 2 and 5, 1965. The following subjects were detailed on lectures as part of the exhibition: hortilculture, viticulture, livestock breeding, crop raising, mechanization.
Mátyás Gál designed many agriculture themed posters in the 1960s and 70s. This poster is very simple yet decorative. In the focus of the composition there is the axonometric drawing of a book, which transforms to a simple 2 dimensional white surface where the name, place and date of the event is written. The stylized, geometric picture of a tree is 'growing out' from the book, and onm the leaves of the tree the subjects of the lectures are written. At the bottom silhuettes of cartoon-like figures are holding books. A nice and simple design.