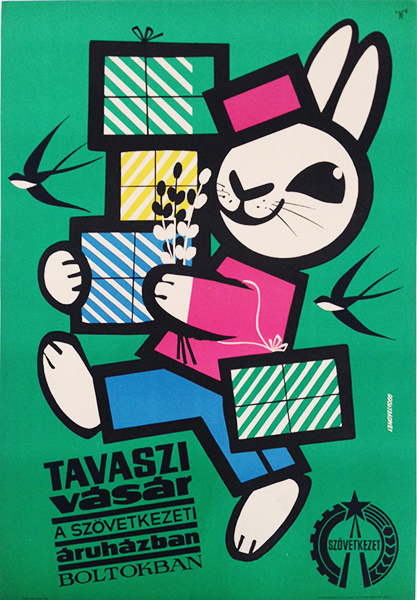 Spring Fair at the Cooperative Stores
Hungarian title:
Tavaszi vásár a Szövetkezeti Áruházban
Size:
A1 1 Sheet (cca. 84 x 59 cm)
Condition:
Fine, restored.
Material:
Paper, offset lithography.
Price: US$1200
Description:
Advertisement for the Spring Fair in the shops of the Co-operatives.
The designer of this poster, Sándor Lengyel had a clear, simple, yet very elegant and effortless drawing style that originates in cartoon design. The typical elements of his works appear on this poster: the cartoon-like, cheerful figure and the colourful geometrical shapes create a joyful and carefree atmosphere. This work depicts a happy bunny carrying boxes, representing the joy of shopping. The use of simple, geometrical shapes, flat plains, strong contours and vivid colours contribute to a recognizably modern, own style of Lengyel.
It is remarkable that the artist created another poster for the event in the same year which was also issued. It was a similar composition and character, but it captured a lovely female figure. Both works are prominent and charming commercial designs from the 1960s.