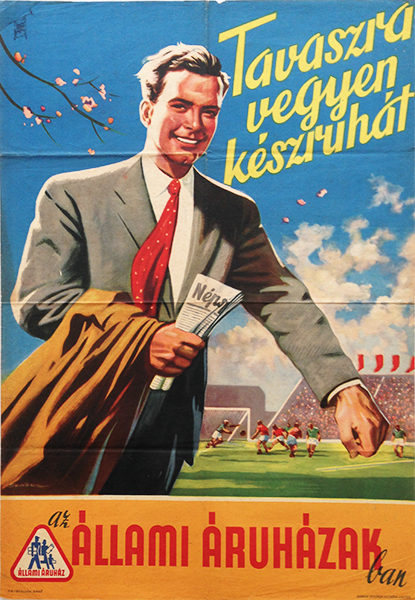 Buy ready-made clothing for the spring in the State Department Stores
Hungarian title:
Tavaszra vegyen készruhát az Állami Áruházakban
Size:
A1 1 Sheet (cca. 84 x 59 cm)
Condition:
Fine, fold marks and wear, small tears.
Material:
Paper, offset lithography.
Price: US$1600
Description:
Buy ready-made clothing for the spring in the State Department Stores is a 1952 vintage Hungarian socialist realist advertising poster from designed by Imre Sebok.
The poster was an advertisement for the State Department Stores. They were a nationalized chain in the socialist era, founded in 1949. These stores had a different system from those shopping centres known today, as they didn't have numerous little shops of different brands, but they functioned as one big economic unity and they had several departments for women's wear, men's wear, shoes, technical goods, presents and souvenirs, toys, etc. This work was aimed to motivate the audience to buy slopwork for the spring in these stores. Slopwork was very typical of the socialist era. The economic state of the country had undergone a great setback in production, so the bad quality, but cheap mass-production appeared.
This design is a typical Socialist Realist composition, depicting a propagandistic, cheerful scene. An elegant male figure is standing in the foreground, wearing suit, shirt and a necktie, holding a long coat and the newspaper of the time, Népszava. Népszava was founded in 1877 and has always been a leftist daily journal, thus it is no surprise that it gets some kind of an emphasis in the composition. The figure is smiling to the viewer in front of a football match in the background. The same character was used on other posters as well of the 1950s promoting slopwork. The whole design imply a convenient, happy life with affordable products and entertainment. This representation was the goal of the propaganda, though it was far from reality during the era.