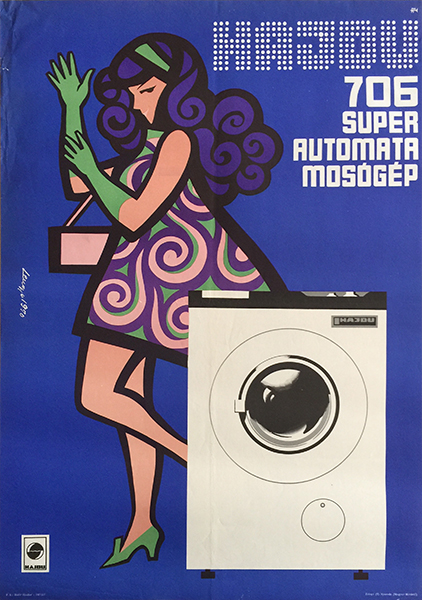 Hajdu 706 Super Automatic Washing Machine
Hungarian title:
Hajdú 706 super automata mosógép
Size:
A1 1 Sheet (cca. 84 x 59 cm)
Condition:
Fine, light fold marks and wear, small tears.
Material:
Paper, offset lithography.
Price: US$1600
Description:
Lovely commercial poster from the beginning of the 1970s. It was advertising the 'Hajdú 706' washing machine with a modern composition.
The design was created by Sándor Lengyel, an important graphic artist of the time. After studying at the University of Applied Arts, he was an active graphic designer from 1949. He was highly commissioned in the 1960s - 1970s and created a great number of commercial posters which was made possible by the slowly growing economy of the period. He was working for big companies and well-known brands.
This poster is also a good example of that era as the product which it advertised was a perfect representative of the period. In the 1960s there were significant changes in the everyday life of the population. The mechanization of the household was a woldwide phenomenon. It first appeared in the USA, but sooner or later it appeared in many parts of the world, including Hungary and the other countries of the Easter block. Such useful inventions were initiated in the household as fridges, vacuum cleaners, hair dryers, or washing machines. These new electrical appliances symbolised the modern lifestyle and later became cultic items of the consumerist society which was being formed during the period.
This design was advertising an up-to-date washing machine of the time with a modern visuality. On a simple blue background the photographic image of the product can be seen with a stylized female figure standing next to it. The figure's hair is depicted with beautiful, thick waves in purple, and she wears a fashionable dress with vivid purple, green and soft pink, wavy patterns. She also has a headband, gloves and high-heel shoes in green. With these shapes, colours and patterns the style of the figure's appearance evokes the fashion tendencies of the 1970s.
The contour lines are strong, the shapes are flat and the whole portrayal is cartoon-like, which, together with the use of vivid colours, are typical of the artist. Lengyel enjoyed capturing cheerful figures which emphasized the advantages of the product by creating a joyful atmosphere. He also liked paper-cut compositions which resulted in a playful character, as it is visible here. The typographic design has also a lot to say about the age: in the name of the well-known Hungarian electronic appliance brand, Hajdú, he used raster dots. The technique was used since the 1960s when it became a common tool of Pop Art designs.
This commercial poster is not only a highly attractive piece, but it also closely connected to the time when it was created. It was a perfect advertisement which used the modern visuality of the time to promote one of the accessories of the contemporary modern life.