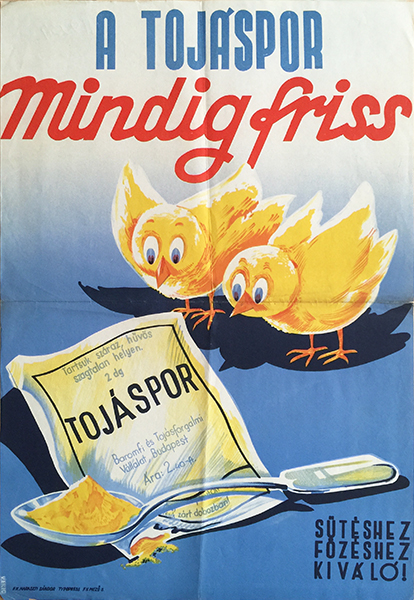 Powdered eggs are always fresh - Great for baking and cooking
Hungarian title:
A tojáspor mindig friss - Sütéshez főzéshez kiváló
Size:
A2 1/2 Sheet (cca. 59 x 42 cm)
Condition:
Very good, fold marks, small tears, light creasing, minor paper loss.
Material:
Paper, offset lithography.
Price: US$1200
Description:
Powdered eggs are fully dehydrated eggs. They are made using spray drying in the same way that powdered milk is made. The major advantages of powdered eggs over fresh eggs are the price, reduced weight per volume of whole egg equivalent, and the shelf life. Other advantages include smaller usage of storage space, and lack of need for refrigeration. Powdered eggs can be used without rehydration when baking, and can be rehydrated to make dishes such as scrambled eggs and omelettes. Powdered eggs appear in literature, as a staple of camp cooking, at least as early as 1912. (source: wikipedia.org)
Eric Vogel used a playful scene to advertise powdered eggs. Two small, yellow chicklings, standing before a blue and white gradient background, are looking at a bag of powdered eggs, staring at it with obvious curiosity and surprise. Next to the package of the product there is a spoon full of powdered eggs.
Powdered eggs were important food products in times of and after war, as they could be easly used for rationing, and used in households.