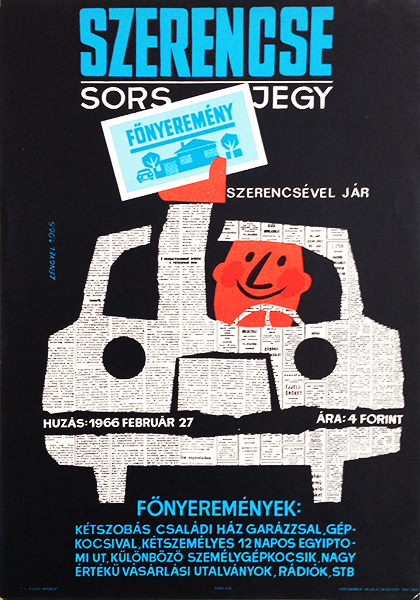 Fortune Ticket
Hungarian title:
Szerencse sorsjegy
Size:
Tram poster (cca. 24 x 17 cm)
Condition:
Fine, light creasing along the borders.
Material:
Paper, offset lithography.
Price: US$280
Description:
Poster for a fortune ticket. The man driving the car is very happy - by looking at him we suppose that he just won his car with the fortune ticket - and he holds a ticket in his hand. The ticket says 'JACKPOT'. The following information is apparent on the postrer: date of the draw: 1966, February 27. Price of the ticket: 4 Ft. Main prizes: family house with two rooms and a garage, a car, a 12 days trip to Egypt for 2 people, different automobiles, shopping vouchers of a high value, radios, etc.
The design is typical of Sándor Lengyel who was one of the most occupied poster designers of the 1960s. He mostly designed commercial posters most of which applied cartoon-like, cheerful characters. This one also has a cartoon character which is very joyous thus giving a carefree atmopsphere to the whole composition. The paper-cut technique is used on this piece which was another characteristic of Lengyel. The car is cut-out from a newspaper as well as the arm of the main character. The design is very decorative and simple with an elegant use of the colours black and white with difefrent shades of blue. The vividness is brought to the composition by the dark orange colour of the character.