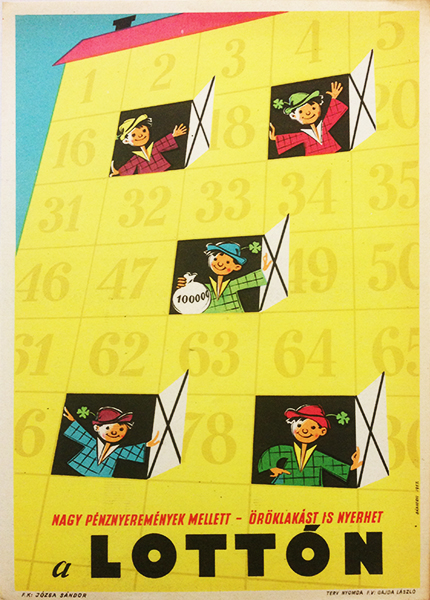 Lottery - Cash Prize and Condos
Hungarian title:
Lottó - Pénznyeremény és öröklakások
Size:
Tram poster (cca. 17 x 24 cm)
Condition:
Fine, foxing and light creases along the border.
Material:
Paper, offset lithography.
Price: US$280
Description:
Tram poster for Lottery. During Socialism not only money could be won with lottery tickets but other prizes such as condos as well. This poster tells this. The design is very nice. A big house with a wall which is a lottery ticket and the windows are the fields of the lottery tickets. Five windows are opening which are the ones checked by the player. A clever solution to incorporate the prizes (house and money) and the lottery ticket in one complex picture. From each window the young boy with the four leaf clover - the symbol of luck - is waving. This boy was a recurring figure on lottery posters. It wasn't rare in the 1950s and 1960s to have cute, cartoon-like characters as signatures of certain brands. The lottery posters very often had the boy on them. Some examples are: Lottery, Lottery 2 or Do not miss it!.