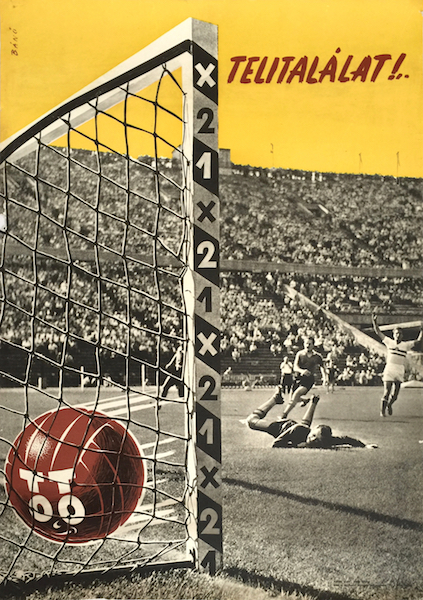 Direct hit!.. TOTO football pool
Hungarian title:
Telitalálat!.. TOTO
Size:
B2 (cca. 50 x 70 cm)
Condition:
Very good. Small paper loss on the left side, middle, small tears on the sides.
Material:
Paper, intaglio.
Price: US$800
Description:
Photo-based poster design by Endre Bánó. The poster advertises a national gambling service, TOTO. This was the most common sports betting game in Hungary that has been existed since 1947 until today. The popular emblem of the pool is the red volleyball head with the "TOTO" letters. Soccer always has been the most popular sport in Hungary. The country has a respectable football history, having won three Olympic titles, finishing runners-up in the 1938 and 1954 FIFA World Cups, and third in the 1964 UEFA European Football Championship. Hungary revolutionized the sport in the 1950s, laying the tactical fundamentals of Total Football and dominating international football with the remarkable Golden Team which included legend Ferenc Puskás, top goalscorer of the 20th century. (source: wikipedia.org)
The poster by Bánó depicts a soccer match and the moment of scoring a goal. On the ball Toto is written and on the goalpost the pattern is given by the numbers used in Toto bets. The football pitch, the audience, the players and the action are pictured in black and white, thus the yellow and red colour part gets more emphasis. Red is the ball and the text saying 'Direct hit!' and yellow is the sky, giving a nice contrast to the whole composition. A very decorative piece.