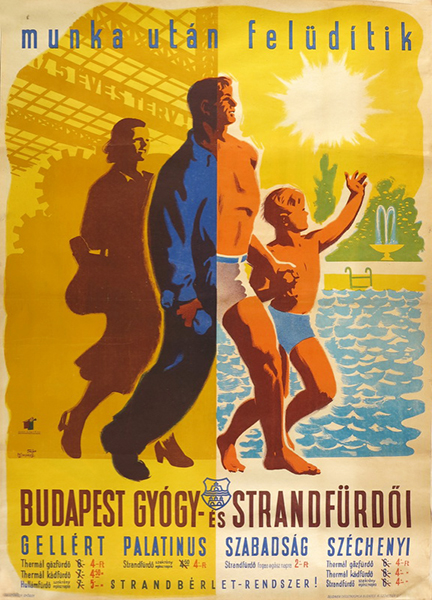 Budapest Spas refresh you after work
Hungarian title:
Munka után felüdítik Budapest gyógy- és strandfürdői
Size:
A0 2 Sheet (cca. 116 x 82 cm)
Condition:
Fine, fold marks, creasing.
Material:
Paper, offset lithography.
Price: US$4000
Description:
Original Hungarian vintage commercial poster from 1949 by Gyula Fejes.
The poster promotes the medical spas and swimming pools of Budapest. The composition aligns with the text saying 'Budapest Spas refresh you after work '. The artist depicted a family on their way to the spa after work. The left side of the poster refers to the past (work) where the man and the woman are wearing their uniforms, and the silhoutte of a factory interior is visible. Above the lady '5 year plan' is written what is a reference to the beginning of the socialist reorganization of the economy.
The right side - the 'after work' side of the image is much brighter, the swimming pool and the bright sun creates a joyful atmosphere.