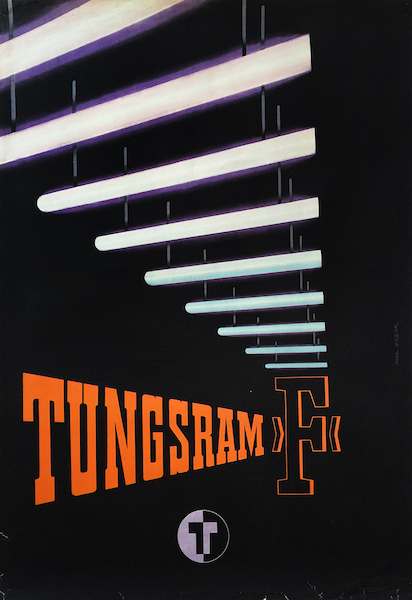 Tungsram F fluorescent light tubes
Hungarian title:
Tungsram F fénycső plakát
Size:
A1 1 Sheet (cca. 59 x 84 cm)
Condition:
Fine, small tears along the border.
Material:
Paper, offset lithography.
Price: US$7000
Description:
Original Hungarian vintage commercial poster from 1953 by Pál Gábor.
Tungsram was established in 1896. The company was awarded a patent for electric bulbs with a tungsten filament in 1903. Later in 1934, they also announced a patent for Imre Bródy's electric bulb filled with krypton. Both provided a longer lifetime for electric bulbs. The firm produced telephone apparatuses, wires, and telephone switchboards since the establishment of the company. Since WW1, the mass production of radio tubes began, which became the most profitable branch of the company.The name Tungsram is a portmanteau of "tungsten" and "wolfram" (as tungsten, the metal used for making the filaments, is known in Hungarian, German and many other languages). (source: wikipedia.org).
Tungsram sold most of its products abroad although after the Second World War it had been nationalized, but its subsidiaries in the Western countries remained. Tungsram did not stop exporting and advertisments were needed for the exported products. This particular piece is one example of those, and it is a very interesting document of the Hungarian art scene of the era.
From 1949 until 1956 Hungarian artists had to follow the obligatory socialist-realist style. This constraint was hell for most of the very talented artists of the time, as they did not get a chance to speak their personal artistic tone. However, there were some companies who exported products (such as Tungsram) and artists commissioned for the export campaigns got a chance to leave the socialist-realist manner behind and create real art. In order to show other countries how good the life and economy was in Hungary at the time, the designers of the export posters were free to let their imagination go. Moreover, the final versions were printed on the best quality paper, unlike the posters for the local market.
Pál Gábor the designer of the Tungsram was an important graphic artist of the period between 1935-1956. Gábor had outstanding achievements in the fields of logo/emblem design and typography. After his emigration to France, he gained success as a designer in Paris. In the 1950s, he designed cultural and export posters, emblems, and designs for important official fairs.
This design is a beautiful painted composition completely different from the obligatory socialist-realist style in Hungary at the time. The socialist-realist posters depict happy workers, socialist symbols, flourishing economy, in a monumental realistic manner. Contrarily, this one focuses on the object, the light tubes and the style resembles the minimalist modernist style of the 1920s and 1930s.