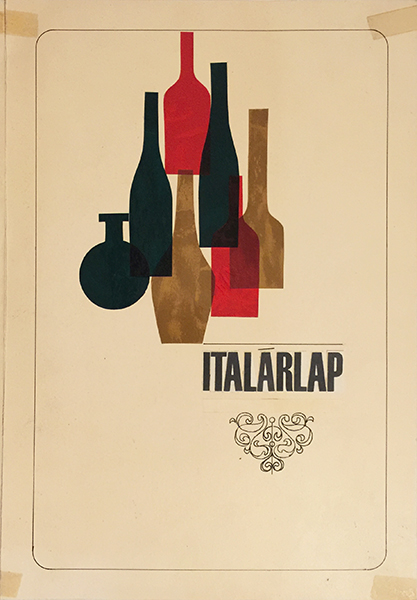 Restaurant drink card cover
Hungarian title:
Itallap
Size:
A4 (cca. 29 x 21 cm)
Condition:
Fine, light wear.
Material:
Paper, collage.
Price: US$1000
Description:
Lajos Vajda was a graphic artist and a painter who designed numerous posters during the 1960s and the 1970s. As a poster designer, he created a great number of movie poster designs, but was also frequently commissioned to design advertisements for commercial companies. He could always choose the best graphical technique, from colourful drawing up to photomontage, which matched the aim of the design. Some of his works were humorous and light-hearted, some were expressively modern, and others were elegant.
This collage artwork was a restaurant drink card cover maquette, designed around 1960. The artwork is characterised by pure elegance. Various bottles are composed into in a well-organized collage, next to which the word Itallap (Drink card) appears under a thin horizontal line. There is also a decoratively drawn ornament below which makes the composition completed. All the elements are put in front of a homogenous background provided by the natural colour of the paper. Modern elements – like the stylized, painted peppers –, and antique-like, prestigious motifs – like the hand-drawn, chiselled ornament – are mixed in the design to reflect chic style.