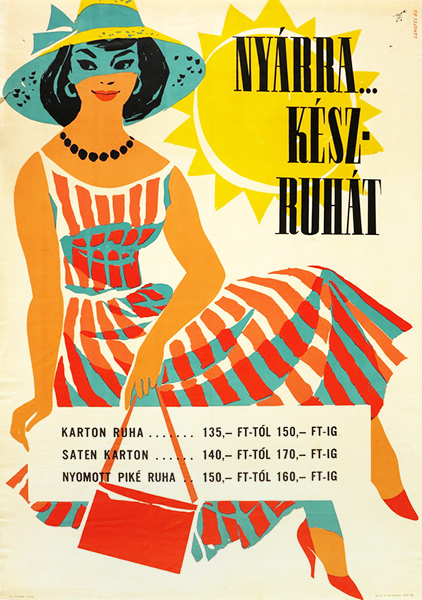 Ready-made garments for summer
Hungarian title:
Nyárra készruhát
Size:
A1 1 Sheet (cca. 84 x 59 cm)
Condition:
Fine, light fold marks.
Material:
Paper, offset lithography.
Price: US$2400
Description:
Beautiful poster by Sándor Lengyel who applied the cartoon-like, humorous and playful style on most of his posters. This manner was the most popular trend in the 1960s poster art, however, Lengyel's exceptional talent allowed him to create unique, easily recognizable designs despite creating in a common style.
As a result of the light, pastel colours, the composition becomes elegant and has an ethereal atmosphere. The lady's dress has no contours, the blue and coral-coloured stripes painted on the white background create the loose texture of the garment and contribute to the divine nature of the composition and the woman on the poster. The shade of her hat falling on her face is light blue, what the artist cleverly used instead of a darker colour to enhance the summery feeling. The text: 'ready-made garment for summer' is placed in front of the image of the sun. The white box displaying the prices of the colthes becomes an organic part of the composition as the lady is leaning on it.
The poster does not promote a brand. In the socialist era competition didn't exist since everything was nationalized. However, in order to create the feeling of a developing economy, the authorities found it important to publish commercial posters as well besides the propaganda ones. At the time, well-educated and talented artist were commissioned with the design of these posters, hence many exceptional pieces were born. This one is a great example of those.