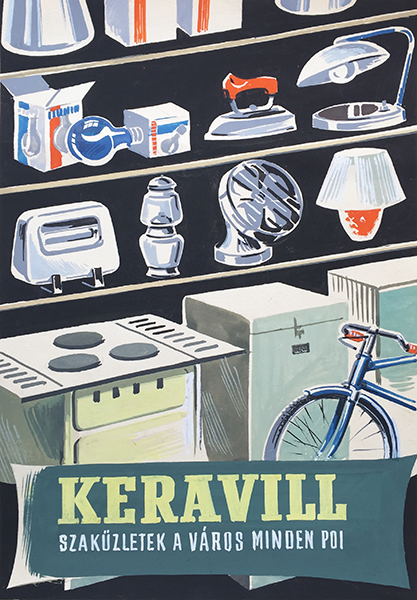 Keravill household appliance stores all around the city
Hungarian title:
Keravill szaküzletek a város minden pontján
Size:
Tram poster (cca. 17 x 24 cm)
Material:
Paint on cardboard.
Price: US$2000
Description:
Original vintage Hungarian commercial poster maquette by Laszlo Molnar from 1955.
Poster maquette for Keravill. The word Keravill is an abbreviation in Hungarian for the words 'Kerékpár, Rádió, Villamosság' which means Bicycle, Radio and Electricity referring to the productcs (bicycles, motorbikes and household appliances) available in the stores.They only had retails in Budapest but it was advertised all across the country. Keravill survived the change of the system in 1989 and it was privatized afterwards. Although all Keravill shops closed in 2004, they did play an important role in the development of retail trade. They introduced to the Hungarian market free home delivery and a cashier system which could keep track of the supply. They also started television broadcast from vcr on Mondays, when otherwise there was no television program.
This maquette beautifully pictures a part of the selection offered by Keravill: oven, fridge, lamps, fan, iron, bicycle, toaster, etc. The blue colour with some red highlights, the carefully organized products and the diagonally arranged composition projects tranquillity. The maquette was made in 1955, when the obligatory socialist realist style prevailed in poster art. However, this piece does not lack the artistic values like many socialist realist pieces do. It bears some of the obligatory realistic characteristic but the gentle brushwork and the pastell colours make the image soft and pleasant.