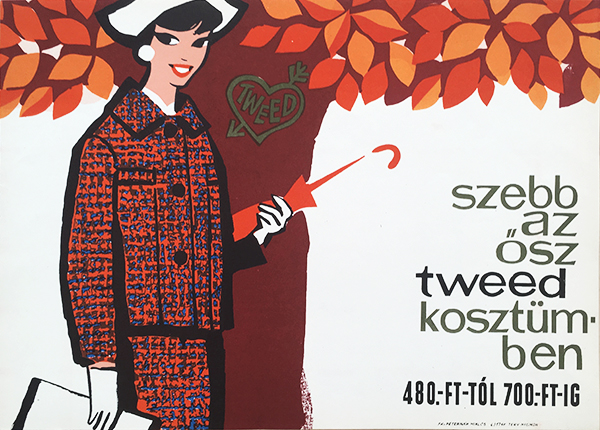 Autumn is more beautiful in tweed blazer and skirt
Hungarian title:
Szebb az ősz tweed kosztümben
Size:
Double Tram poster (cca. 34 x 24 cm)
Condition:
Fine, light wear.
Material:
Paper, offset lithography.
Price: US$400
Description:
Fashion poster promoting tweed.
Tram poster for promoting tweed. Tweed was brought into fashion by Coco Chanel who saw this material on man in Scotland in the end of the 1920s. Coco Chanel was the one who first designed clothing for women from tweed. "Tweed is a rough, woollen fabric, of a soft, open, flexible texture, resembling cheviot or homespun, but more closely woven. It is usually woven with a plain weave, twill or herringbone structure. Colour effects in the yarn may be obtained by mixing dyed wool before it is spun" (source: wikipedia.org).
In Hungary tweed started to spread as a fashion trend in the 1960s. It is a warm fabric, thus it was mostly advertised by autumn and winter fashion posters. On this one the colour of the lady's clothing and the tree leaves are harmonic autumn shades.The composition is very elegant, but a little playfulness is added by the heart carved in the tree.