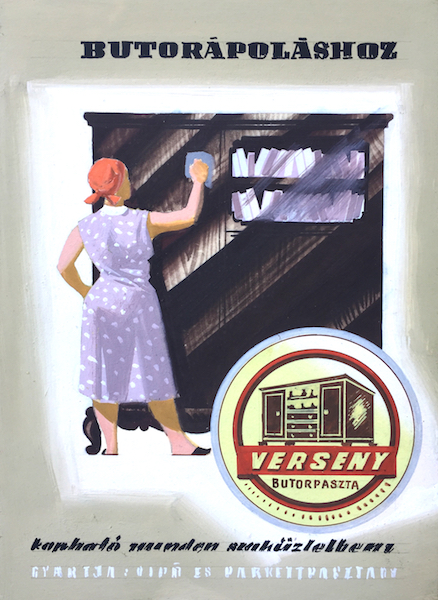 Race furniture polish for furniture care
Hungarian title:
Verseny bútorpaszta - Bútorápoláshoz
Size:
A5 1/16 Sheet (cca. 15 x 21 cm)
Material:
Paint on cardboard.
Price: US$2000
Description:
Race furniture polish for furniture care is a 1956 vintage Hungarian painted poster artwork maquette designed by Lajos Vajda.
'Race furniture polish. For furniture care… Available at every specialists' shop. Produced by: Factory of Shoe and Parquet Polish' – reads the inscription of this painted poster mockup.
The artwork was created in the 1950s by Lajos Vajda. Vajda was a prominent graphic artist who designed numerous poster designs during mostly the 1960s and 1970s. He designed a great number of movie posters and also created numerous advertisements for commercial companies as well. He could employ a number of techniques and styles with an excellent taste.
Here Vajda was commissioned to design a later-to-be commercial poster for their furniture polish. He did a great job, too, as he painted an attractive and effective composition.
Both Sinka and Vajda chose to follow the tradition of the Sachplakat style. The tendency revolutionized the German poster art in the early 20th century by Lucien Bernhardt, and had a strong influence on international commercial poster art as well. The so-called "object posters" featured a realistic depiction of the advertised product with only a few or no other elements, so Vajda displayed the furniture polish product itself in its original packaging here. He placed it elegantly to show the logo of the product, a stylish secretaire and the name of the brand in a red frame. Behind the product a bigger cabinet appears on the shiny surface of a wooden surfaced background. All the shades used are in harmony, the composition is simple and concentrated, and the product is decoratively highlighted.