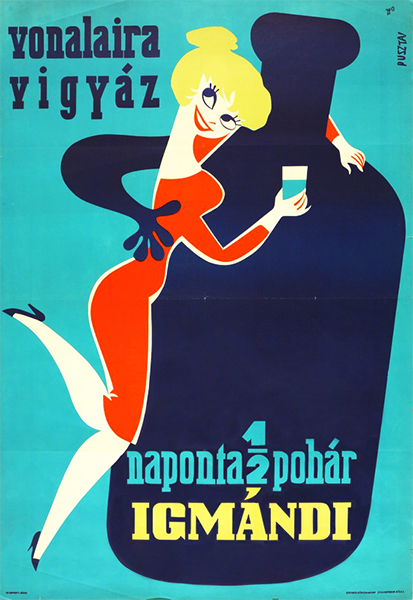 Takes care of your figure - Half cup of Igmandi water per day
Hungarian title:
Vonalaira vigyáz naponta 1/2 pohár Igmándi
Size:
B1 (cca. 100 x 70 cm)
Condition:
Fine, light fold marks and wear, small tears.
Material:
Paper, offset lithography.
Price: US$1200
Description:
Commercial poster for a famous mineral water brand called "Igmándi". It was created by Pál Pusztai, a Hungarian caricaturist.
Nagyigmánd was known for its healthy mineral water since the 19th century. First Antal Schmidthauer, a Hungarian chemist discovered it in 1862, and one year later he started bottling it. The medicinal water first gained a national, and later an international fame, due to its high mineral content.
In Hungary there are more than a hundred springs of medicinal water. Mineral waters come from underground waters, from natural or artificial wells and they are inherently free of contamination. Their composition and temperature is almost constant. Mineral waters should not be confused with drinking waters with added minerals, because in case of the latter category, mineral content is created artificially. Medicinal waters can be used externally and internally, too. For instance, as drinking cures, they are employed mainly for treating gastro-intestinal disorders, esophageal diseases, biliary diseases, chronic bowel diseases. Igmándi water can be used for gastric and duodenal symptoms, because of its magnesium sulfate content.
(source: www.balneoportal.hu)
Igmándi medicinal water was bottled and used for more than 125 years, until 1983. However, all the wells were closed in 1989 and the bottling was also stopped.
This poster was created for the brand in 1960. It is a humorous composition of a huge bottle and a smiling female figure, cuddling each other. The advertisment targeted women and tried to convince them to consume the medicinal water by claiming that it takes care of the figure. By depicting a typical female figure of the 1960s, the poster represents the beauty ideal of women in the decade: the blond hair in the characteristic hairdo, the big eyes and long eyelashes are typical features in the era. The lady also has a perfect figure, which she thanks to the large bottle she is hugging. The whole design is an adorable composition in the popular style of cartoons and caricatures of the period.
This piece is a lovely commercial design from the 1960s.