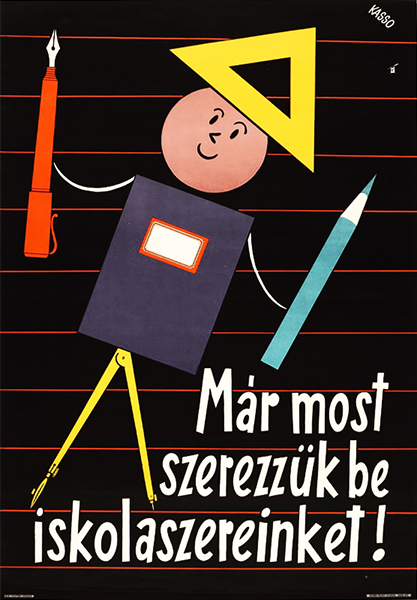 Buy school equipment in time!
Hungarian title:
Már most vásároljuk meg iskolaszereinket!
Size:
A1 1 Sheet (cca. 59 x 84 cm)
Condition:
Fine, light fold marks and wear.
Material:
Paper, offset lithography.
Price: US$800
Description:
Cute poster by Félix Kassowitz for motivating the audience to buy school equipment. Kassowitz was a famous caricatourist from the 1930s till the 1960s. He spent the interwar years in Paris where he worked for prominent newspapers, such as La Rite. After spending years in Paris he returned to Budapest. Besides his unique caricature style he is very famous for being a pioneer in Hungarian animation film making alongside John Halas and Gyula Macskássy. Due to his Jewishorigin he was taken to a labour camp which he luckily survived and he continued working. His works are easily recognizable by their vivid colours, humorous tone, funny characters.
This poster is not an exception. In front of a blackboard which serves as the background image there are verious school equipments creating a lovely figure: exercise book, compasses, ruler, pen and a pencil. These are connected by lines drawn by chalk on the board thus creating a friendly figure.