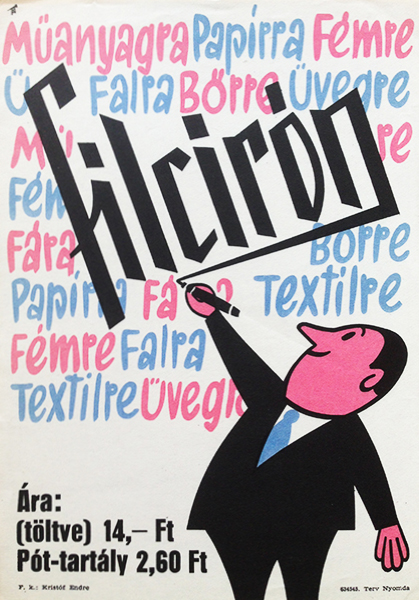 Felt-tipped Pen
Hungarian title:
Filcirón
Size:
Tram poster (cca. 17 x 24 cm)
Material:
Paper, offset lithography.
Price: US$280
Description:
Tram poster for promoting felt-tipped pen. In 1963, the year when this poster was created, felt-tipped pen was a new invention. It was invented by Yukijo Hoire, a Japanese man who had been the president of Pentel company producing writing instruments.
This poster focuses on the advantages of the marker compared to a general pen. In the middle Filcirón is written which is the Hungarian equivalent of the fet-tipped pen. Behind it the surfaces it can be used on are listed: plastic, paper, metal, wood, leather. A man is writing it with the product itself. On the bottom of the page the price of the pen is told.
There are only three colours used on this composition: black, pastel pink and pastel blue. The text has the same colours as the character which results in a very harmonious appearance. The cartoon-like figure is a typical sixties style as well as the typographical style.