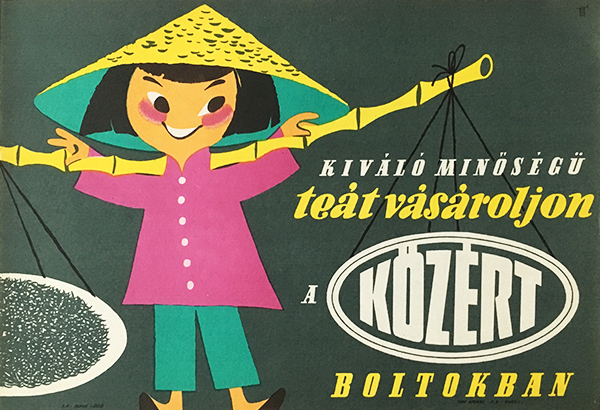 High quality tea from the State Department Store
Hungarian title:
Kiváló minőségű teát vásároljon a Közért boltokban
Size:
Double Tram poster (cca. 24 x 34 cm)
Condition:
Fine, light wear.
Material:
Paper, offset lithography.
Price: $800
Description:
Tram poster to promote Közért the State Owned Supermarket. Közért was the grocery store during Socialist times where all kinds of foodstuff could be purchased. The State Owned Supermarket was the equivalent of a regular supermarket but was a nationalized version of that. The state's purpose with these posters was - besides of course others - to make the everyday people feel that everything they might need is supplied by the government and is easily accessible in the shops. This work is not an exception. However, this wasn't true, there was a significant shortage of supply in Socialism.
This particular poster promotes the high quality tea selection of the Supermarket. It shows a lovely Vietnamese girl in a traditional hat who is carrying a big plate of tea on her one side - and the logo of Közért appears on the other side.