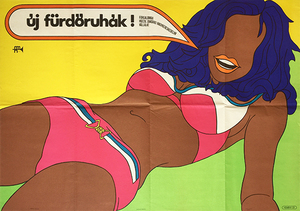 New bathing suits!
Hungarian title:
Új fürdőruhák!
Size:
A0 2 Sheet (cca. 84 x 119 cm)
Condition:
Fine, light fold marks.
Price: $3200
Description:
Original Hungarian vintage commercial poster from 1969 by György Kemény.
The poster was made when pop art style started to gain popularity in Hungary. György Kemény is one of the most significant artists who created pop art designs. He was a controversial figure in socialist Hungary whose poster art often pushed the limits and some of them were even banned by the cencorship.
The style and theme of this poster was also very bold. The postore of the lady wearing the bikini, the bright colours are all provoking elemnts.