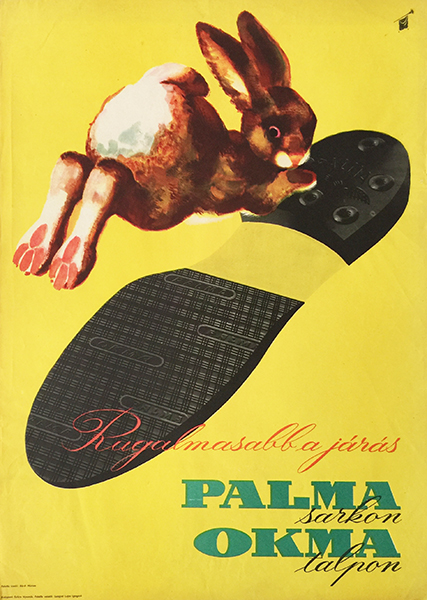 Walking is more flexible on Palma heels and Okma sole
Hungarian title:
Rugalmasabb a járás Palma sarkon Okma talpon
Size:
B2 (cca. 50 x 70 cm)
Condition:
Fine, small tears, light creasing.
Material:
Paper, offset lithography.
Price: US$1200
Description:
Commercial poster from the late 1950s, created by Győző Szilas.
Győző Szilas was an important graphic artist of the post-war period in Hungary. Szilas began his career in the 1940s when he created Art Deco-influenced advertisements for large companies. He often used realistic, very decorative depictions of the advertised product or presented it in a humorous scene. In the 1950s his posters employed the official socialist realist character with the forced scenes, typified characters and realistic style which was expected in the era. In the 1960s, he created fresh and modern compositions, employing an inventory of graphic techniques.
This advertisement was made for the companies of Palma and Okma. They were popular brands in Hungary with a long tradition. Both companies produced heels and soles, too. They had countless fine advertisements since the beginning of the 20th century, created by such prominent artists as Róbert Berény, Mihály Biró, or Tibor Pólya.
This work is also a great piece. It is a simple, yet very skillful and elegant design. The Palma heel and Okma sole can be seen on their own, bottom to the top in a detailed, realistic representation in front of a bright yellow background. A little bunny is also depicted during a jump, and the slogan appears in a decorative typographic design beneath: "Walking is more flexible on Palma heels and Okma sole". The design is based on the message that by using the products walking feels so comfortable and light that we can jump as a bunny. It is simple, but a really good idea what also creates a cheerful atmosphere.
This piece can be considered an "object poster" due to the strong focus on the advertised product, created by the concentrated composition and enhanced by the homogenous background. These aspects evoke the tendency of the "Sachplakat" style. Is greatest advocate was Lucien Bernhardt who made a revolution in German poster art in 1905 with the striking simplicity of his commercial posters. These object posters contained a realistic depiction of the product and a clean, bold typography. In Hungary Márton Tuszkay was the one to introduce the new approach in advertising in the 1910s. This piece by Győző Szilas proves that the style was still in use and could be employed in a fresh way even in the late 1950s.