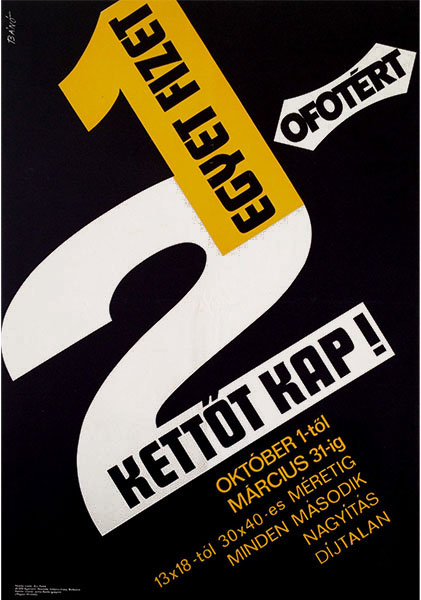 Photo film developing - Buy 1 get one free!
Hungarian title:
Ofotért - Egyet fizet kettőt kap!
Size:
B2 (cca. 50 x 70 cm)
Condition:
Fine, light fold marks and wear.
Material:
Paper, intaglio.
Price: US$280
Description:
The poster advertises Ofotért. Ofotért is still existing today and it offers optometry services. However, the company has a long history. The Chamber of Comerce and Industry was shut down in 1948 and a year later the optitian profession was also nationalized. Most of the people who lost their jobs, found new positions in Ofotért, based in 1949. The nationalized shops moved in to the former private shops of opticians and photographers. This might be the reason why Ofotért also offered photo developing in the 1960s. This particular piece promotes a sales, where every second blow-up is for free in the given sizes.