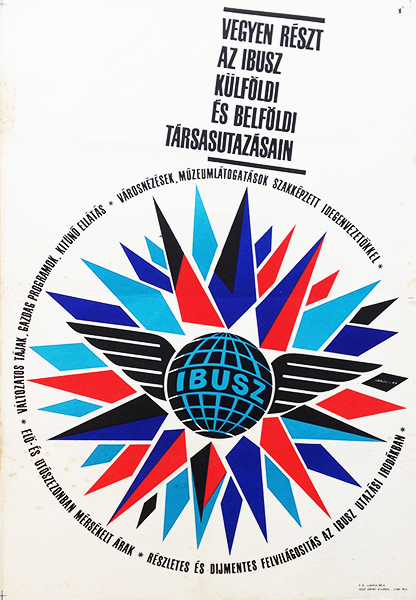 IBUSZ Package Tours
Hungarian title:
IBUSZ - Vegyen részt az IBUSZ külföldi és belföldi társasutazásaiban.
Size:
A1 1 Sheet (cca. 84 x 59 cm)
Condition:
Very good, fold marks, light foxing.
Material:
Paper, offset lithography.
Price: US$400
Description:
'Take part in the foreign and domestic package holidays of IBUSZ.'
IBUSZ is the national bus company which offers several kinds of trips for holidays. This poster was designed for advertising package tours of the company in the 1960s.
The design is an impressive composition, based on the logo of the bus company which is surrounded by colourful rays. The logo appears similar to the sun as it is depicted to be the centre of these rays. The blue, red and black colours are simple, basic colour shades. The whole image is put in front of a white background. Some details of the offer are captured with a smart typographic idea: they appear in a circle around the main image. The main title in black is placed above.
The design was created by Lajos Görög. Görög was a prominent figure of the 1960s and 1970s poster art. His most outstanding creations are his movie posters and his typographic works. This piece is a good example of his typographic designs.