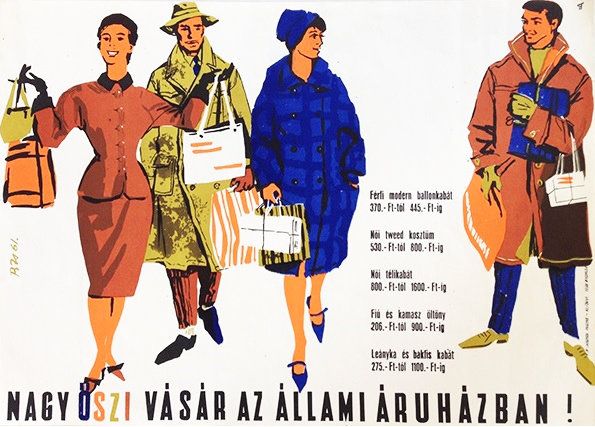 Great Autumn Sale in the State Department Store!
Hungarian title:
Nagy őszi vásár az Állami Áruházban!
Size:
Double Tram poster (cca. 24 x 34 cm)
Condition:
Fine, light wear.
Material:
Paper, offset lithography.
Price: US$320
Description:
Fashion poster from the early 1960s in a non-standard size (23.5 x 33 cm). Signed: BZS. It was created to advertise the autumn sales of 1961 at the State Department Store which was a national chain in the socialist era.
This poster reflects the changes in fashion in the beginnings of the 1960s. Four figures are depicted in the poster walking and standing in fashionable clothes, holding several packets and bags in their hands - most probably they are captured after shopping in the State Department Store. A trench coat on the male figures, a tweed costume on one of the female figure and an oversized coat can be seen on the other one. These items became iconic pieces of the fashion of the decade. The portrayal of the design also adopts to the characteristic graphical style of the fashion drawings of the period.