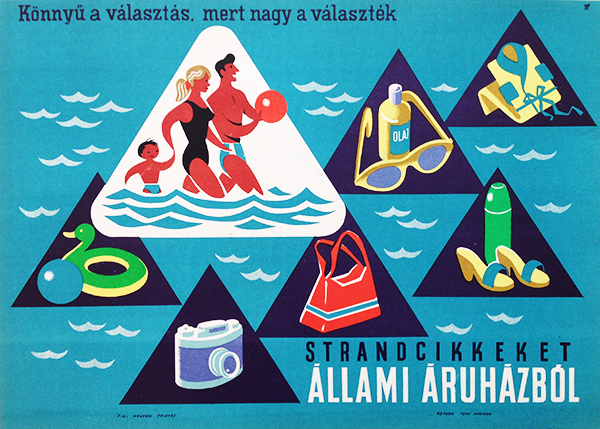 Beach accessories from the state department store
Hungarian title:
Strandcikkeket az Állami Áruházból
Size:
Double Tram poster (cca. 24 x 34 cm)
Material:
Paper, offset lithography.
Price: US$600
Description:
The poster was an advertisement for the State Department Stores. These were nationalized chains in the Socialist era, founded in 1949. The stores had a different system from the shopping centres of today, as they didn't have numerous little shops of different brands, but they functioned as one big economic unit and they had several departments for women's wear, men's wear, shoes, technical goods, presents and souvenirs, toys, etc. In the 1950s and 60s in the Socialist countries brands and wide selection of goods did not exist. However, this poster states the opposite. The text on the top says that 'chosing is easy because there is a wide selection of products'. This wasn't the case but in the 1960s it was much better than in the 1950s. After World War II from the beginning of the Socialist era, 1948, private property was gradually wound up by the state. A retail trade and wholesale system was created by overtaking all private tradings. Hence, the cooperative stores were born. These stores were operated by the state. This act had various motifs. Besides the obvious social-political reasons, the Socialist ideology considered the principle of 'the bigger the economic unit the more developed it is' to be normative. The centralization of the management and monitoring of the economy was also a major aspect which required a lower number of companies. Due to this and the neglecting of service in general, trading started to fall apart in the 1950s. The supply was very low and it was really difficult to purchase what people desired. However, in the 1960s commerce started to rise and cooperative stores started to sell a larger variety of goods. The goal of the stores was to motivate customers for purchasing regularly. A very good motivational force was the variety which was a new phenomenon. Posters often used the presentation of this variety to convince the audience that the cooperative store is a good place to do the shopping at.
This poster lines up a number of products available in the cooperative stores: camera, bag, slippers, sunglasses, sun lotion, etc. The cartoon-like design was very typicaln of the 1960s when the strict autonomy of the Socialist-realist manner disappeared and artists had more freedom. In contrasty to the idealized workers and communist symbols of the previous decade, in the 1960s artists applied a lighter and more playful cartoon like manner. This poster is a fine example of that.